kids4kidsworld Foundation
Jeralyn Glass is a passionate performer and teacher. She seeks out, encourages and supports young artistic talent, creating a learning environment based on teamwork, respect, creativity and self discovery. In 2006, following her deep desire to serve a wider community through music, she created and founded kids4kids World Foundation, a charitable organization in Munich, Germany where she was living and enjoying a successful career as an Opera Singer.
She and her highly skilled team are committed to developing the young performers unique talents in a highly professional and loving manner. She trains her young performers as artists using holistic techniques termed Whole Human Awareness. She knows Music is a tremendous healing force and understands how to anchor this force in their bodies with energy, presence, electricity and joy. kids4kids participants not only blossom in their musical and theatrical talents, they learn integration and comraderie, develop their social consciousness and experience the power within themselves to make positive changes in the world. www.kids4kidsworld.org.
Through performances and donations, kids4kids world foundation has raised over $30,000 annually since 2006 for music therapy. Children dealing with trauma, abuse, loss, illness, immigrant challenges, and emotional instability are not alone and have profited from the Music Therapy offered privately and in small groups funded by the kids4kids World Foundation.
Jeralyn is thrilled to look back on the 10 years since conceptualizing and creating the Foundation. The children receiving the music therapy are experiencing important positive changes in their lives. The 12 music therapists working closely under the supervision of Dr. Monica Nöcker- Riobeaupierre continue to develop even more effective techniques and their patients are improving greatly. The kids4kids performers have won national prizes and honors in both classical and popular music. They are performing leading roles in Musicals, Television and Film. They attend prestigious institutions of higher education and are pursuing their dreams, studying not only Music and Theater, but Law, Economics, Social Science, Music Therapy, Recording Engineering, Lighting Design and Computer Science as well. Mary Hammond, kids4kids Artistic Advisor and Board Member from the Royal Academy Of Music, London and the coach to many well known singers and West End Performers said it beautifully,
"I find kids4kids a wonderful concept as it gives young performers a sense of responsibility to others their own age for whom life has not been so happy. It is an ideal way to combine what they love to do with a sense of responsibility. Music, in its true expression, knows no social boundaries and can feed the soul when it has been neglected, restoring the human in human beings."
Through Jeralyn's devotion and leadership, kids4kids has garnered much acclaim and support including from Susanna Klatten, one of Germanys most respected Entrepreneurs:
"In a world where the focus on materialism and outward appearances continues to grow, it is most important, especially for our youth, to have a stability which allows them independence in their lives. For me, singing and music is a step towards this independence. Those who have experienced the power and richness inherent in music are less likely to be dependent upon superficialities." Susanne Klatten, Sponsor
kids4kids has enjoyed sold out performances and received consistent rave reviews for its inspirational, professional level productions in the Munich press. In 2013, the kids4kids performers were invited to sing at a prominent Gala in Munich for 'Care For Rare' a Foundation which researches rare children's disease. They performed for Horst Köhler, the former President of Germany. They had the honor to open the prestigious Munich Opera Festival in 2012 and 13.
"How wonderful it is, that nobody need wait a single moment before starting to improve the world," Anne Frank, age 13, is their leitmotif. Their Motto? …..KIDS4KIDS- PERFORMING CHANGES!!!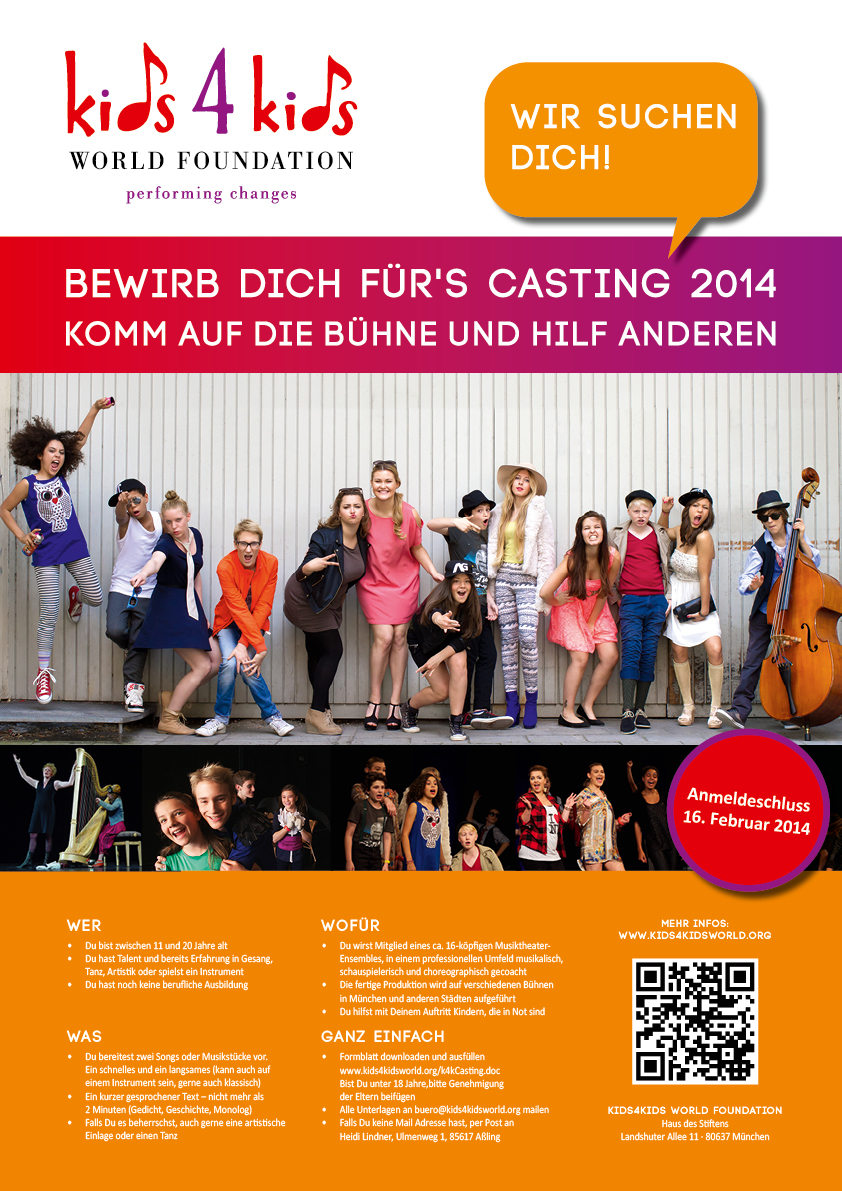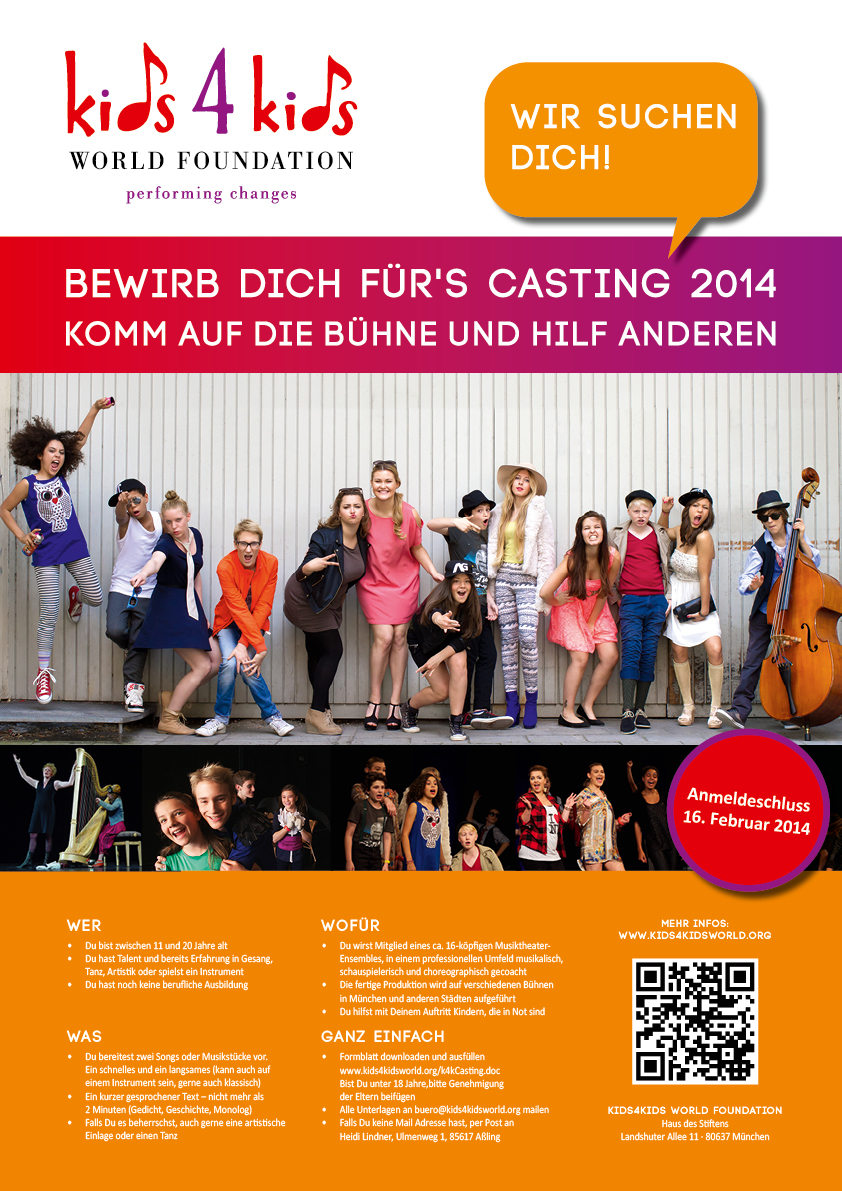 Kids4kids World Foundation Theme Song. Lyrics by Jeralyn and Dylan, Music by Wolfgang Bachman